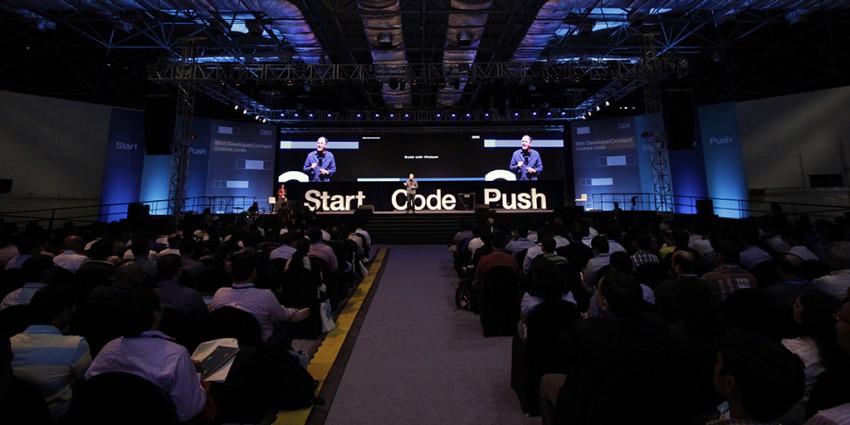 An initiative is taken by IBM to launch a global programme with advanced tools to boost the skill of the developers and progress their careers at the IBM Developer Connect in Bengaluru.
The MD, IBM India said, "Rewriting of the code will be done for the whole world but a maximum of it will be done in India". Adding to it Vanitha Narayanan said, "In this emerging technology world, the Developers are the asset of India and for the developers' innovation and success, the capabilities of IBM in Watson, cloud, mobile will help them a lot. For a progressive India, we are investing and collaborating with the developers".
Many developers attended the conference offline as well as online via live streaming. The Author of the book The Creator's Code, Amy Wilkinson; A startup company Alpha Modus CEO Prashant Bhuyan were few of the star speakers who boasted the day long conference.
There were a few key announcements were made such as
Associating with Coursera
The global course of Coursera's Full Stack Web Development is targeted to power up the developer ecosystem in India. Only 20 Indian entrepreneurs will be selected by IBM who will be offered the Coursera's capstone project. Those who will complete the project will be given a chance to join the IBM Global Entrepreneur programme and will be provided USD 120,000 in IBM Cloud credits.
Introduction of new toolkit developerWork Career Concierge
A beta version of developerWorks Career Concierge is introduced, a new Watson-based tool that helps to progress developers in the cloud journey. Upon answering a few set of questions about themselves, the Career Concierge uses API (Watson Tradeoff Analytics) on Bluemix to give out a set of resources, training materials, events which will help them in their careers.
GitHub Enterprise on Bluemix Dedicated
GitHub announced the ingeneral availability of service on Bluemix Dedicated, a cloud-based platform from IBM.
New cloud tools for swift and Watson is introduced
IBM introduced the beta version of IBM Cloud Tools for Swift which will simplify the management and deploy the server-side assets to Xcode, in an environment complementary.
Use of Swift on LinuxONE is done to connect into the hybrid cloud by creating server-side applications. It will help the developers to combine the programming language with the system's speed and security.
Watson Developer Cloud Application Starter Kit
With the use of Watson Developer Cloud Application Starter Kit, the developers seamlessly can infuse cognitive capabilities into their apps. It helps to enter easily into the cognitive and mobile development.
By these announcements, the proposals and investments are reinforced by IBM developer Connect that is already done in India. For bringing a cognitive solution to the Indian Market by using IBM Watson Ecosystem, IBM launched a few digital hubs with NASSCOM to connect the Indian developers and start-ups with local resources and networking opportunities.